Sports and Leisure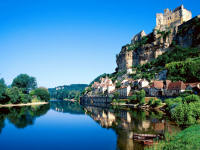 For those who like the outdoors or who want to explore or keep fit, you can choose!
Walking
The countryside is ideal for walking, whether you prefer the flat or hills, the road or off-road tracks or through the woods - all straight from your front door!
Cycling
Cycling is also very popular here, and the choice of routes is endless, both for road cycling and mountain biking.
Horse Riding
There are stables nearby (at Degagnac, 7 km away) for horse lovers.
Running
For the fitness fanatics among us, the countryside runs are beautiful - and we can even find out where the races are!!
Tennis
Lavercantiere, like most villages here, has a tennis court that can be booked.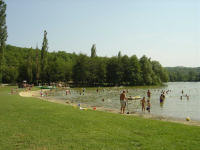 Swimming
The restaurant in the village of Lavercantiere (2 km) has a lovely swimming pool which is available to customers in Summer. Lake swimming is available at the beautiful Lac Vert just outside Catus, a mere 10 minutes' drive away and also at Cazals, also 10 minutes from here.
Fishing
Lake fishing is popular, and after obtaining a permit (from any tabac), you can fish at any lake or on the rivers, where trout and other fish abound.
Canoeing/Kayaking
Available on both the Lot and Dordogne rivers.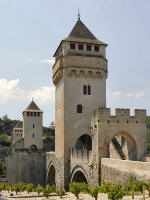 Adventure Parks
There are several within reach, both in the Lot and the Dordogne.
Other Activities
Wine Tasting
Try different wines at the numerous chateaux in the area - the Lot, and the Cahors area in particular is famous for it's wine.
Cruises
Take a trip on the Lot for a different view of the area. Available from Cahors.
Also See:
Around And About >>